Earth Observation
End-to-End Solutions
Based on Artificial Intelligence, Computer Vision,
Geo-science and Remote Sensing, Image Processing
and Big Data Analytics.
Story Maps
36
Research Articles
53
International Customers
10
OUR PRODUCTS & SERVICES
We Provide Useful Services
We develop indispensable tools based on cutting edge technologies for decision-making

Classification
It is the process of assigning a pixel (or groups of pixels) of remote sensing image to a land cover class, including:
Water bodies and Vegetation

Road networks and paved areas

Buildings and undeveloped areas

Change Detection
It captures the spatial changes from multi temporal satellite images due to manmade or natural phenomenon.
Monitoring environmental changes

Monitoring natural resources

Land use –land cover change detection

Environment Monitoring
It helps support the management of water, land surfaces, aquatic ecosystems and biodiversity.
Vegetation health

Water quality/ underground water

Land surface temperature

Projects Monitoring
It is essential to provide information on urban land cover characteristics, and their changes over time, at various spatial and temporal scales
Project construction progress including big projects such as EXPO, monitoring artificial islands, and other

Disaster Management
Remotely sensed data can be used very effectively for quickly assessing severity and impact of damage due to:
Earthquakes, landslides

flooding, forest fires

cyclones and other disasters

Air Quality
Air quality is determined by atmospheric aerosols and trace gases, which have adverse effects on, e.g., health, visibility and climate.
PM 2.5 and PM 10

Carbon dioxide (CO2)

Nitrogen dioxide (NO2)

AI Solutions
We are utilizing AI solutions to provide state-of-the –art products and services in the field of geo-science and remote sensing, including:
Objects detection

Features extraction

Predictions and patterns recognition

3D Mapping
With the help of drones technologies, we can generate a 3D model for a region of interest.
Digital Terrain Model (DTM)

Point Clouds

Contour Map

Data Fusion
Multi-sensor data fusion is essential to achieve synergetic effects in order to gain more information from the fused product than the original images contain, including:
Optical Data

Synthetic Aperture Radar (SAR) Date

Thermal Data and others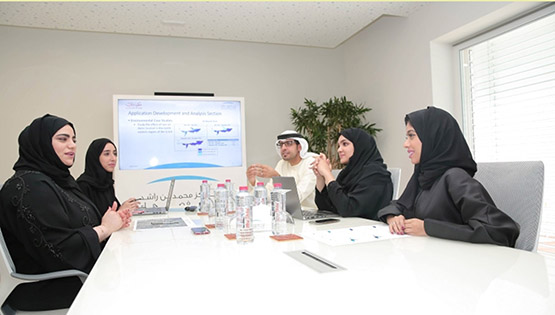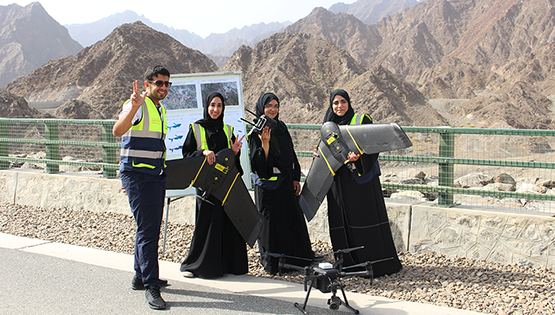 Serving our end-users and community
In addition to providing our customers with high resolution satellite images, MBRSC is finding solutions to the outstanding problems in Geoscience and Remote Sensing using the cutting edge technology in the fields of computer vision, image processing and geographical information systems. It is dedicated to conduct research to solve problems in diverse areas including multi-sensor data fusion, image analysis, super resolution, image enhancement, image segmentation and classification, features/object extraction, pattern recognition, etc. Our core business can be summarized as follows:
Developing intelligent systems and applications that benefit the scientific community in the UAE.

Providing innovative software solutions based on remote sensing technologies, image processing and geographical information system.

Incorporating AI technologies into software development and digital data processing.

Providing periodic specialized analytical studies, dealing with various environmental aspects.
Explore MBRSC Geo-Analytics Platform!  
It is an interactive platform that provides a number of analytical studies periodically to governmental agencies. Any new study will be automatically added to this platform to enable beneficiaries and the scientific community in general to benefit from the scientific studies and researches conducted by MBRSC. It is launched in June 2020 to provide analytical studies in the three main themes:
Monitoring infrastructure projects
Studying environmental changes
Monitoring damages caused by crises
News Updates OUR PARTNERS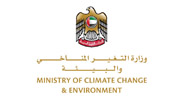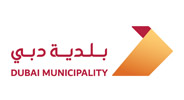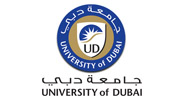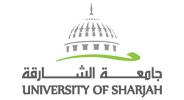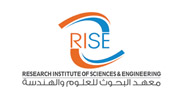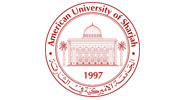 TRACK OUR SATELLITES