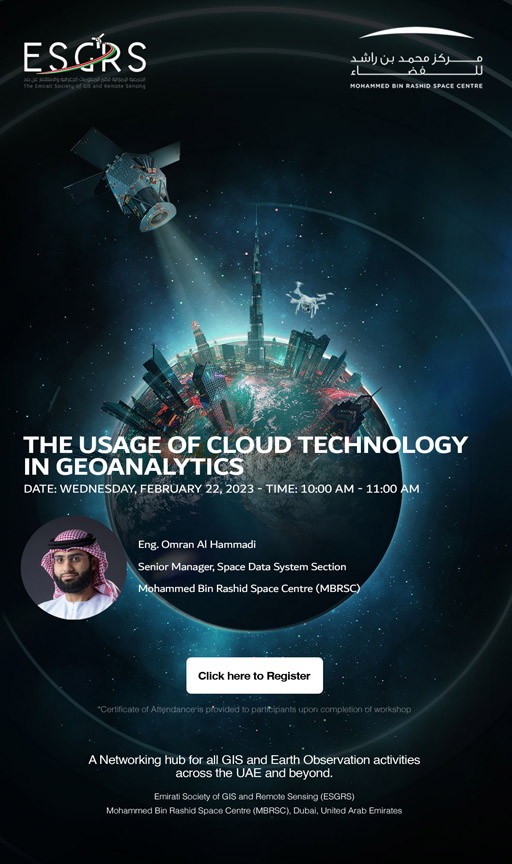 The Usage of Cloud Technology in GeoAnalytics
Satellite images are one of the most influential and essential tools we have for observing the earth. They monitor different components of the earth (Air, Vegetation, Water, etc). The study of these earth components has a huge influence on government decision-making, emergency response operation, and many more. With the dramatic increase in satellite image data volume, using sophisticated infrastructure and resources to perform data analysis is pivotal to delivering analyzed information as soon as possible for the decision maker. Cloud technology is the current trended resource for performing satellite data analysis. The webinar will give abstract information on how cloud technology can assist the geo-analysis professions in delivering rapidly analyzed products to decision-makers.
Speaker
Omran Ahmed AlHammadi

Senior Manager - Space Data System Section @Mohammed Bin Rashid Space Centre

Omran Al Hammadi is responsible for directing and managing the design, development, and operation of the Emirates Mars Mission science data center. He has experience in orchestrating cloud solutions for science data processing and analysis. He has previous experience in the development of ground segment software for EO satellites that is mainly utilized during satellite operations. He was responsible for building different ground segment software that assist the satellite operation team in analyzing the telemetry received from the spacecraft. He also led the team responsible for developing solutions for EO satellite image applications and analysis that support decision-makers and different government entities in monitoring infrastructure projects, air quality, and landscape quality and coverage. He earned his Computer Engineering Bachelor degree from Khalifa University in 2011.