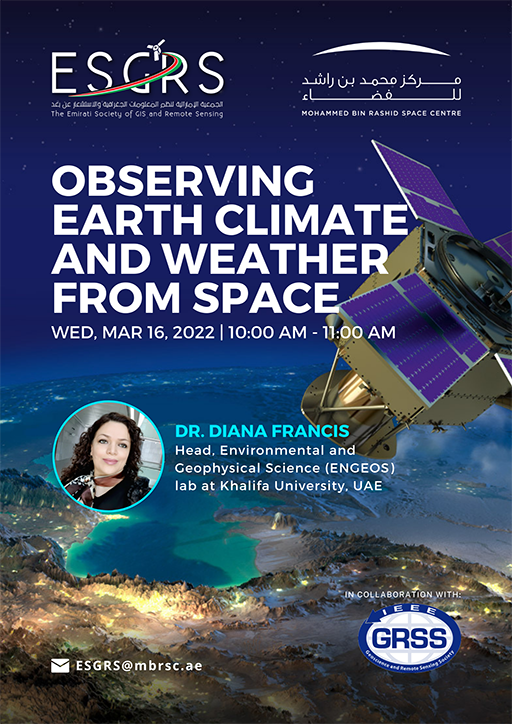 Observing Earth Climate and Weather from Space
Earth observations are nowadays key tools for a better understanding of the climate and weather patterns in different regions around the globe. In this webinar, I will discuss the significant contribution of Earth Observations from space towards unravelling several phenomena and allow scientists to gain knowledge on how they occur and what are their characteristics and impacts.
Curious to learn more about polynyas in Polar Regions, dust storms in the tropics, rainfall and temperature trends over the UAE, snow and ice darkening in the Arctic and the Alps, etc…?
Speaker
Dr. Diana Francis

Head of the Environmental and Geophysical Science (ENGEOS) lab at Khalifa University, UAE

Dr. Francis is an atmospheric scientist with a Ph.D. in Atmospheric and Environmental Sciences from Sorbonne University, Paris. She is an internationally renowned scientist with more than 10 years in Academia and scientific research. Beside her role at Khalifa University as Head of ENGEOS lab, she is currently the lead of the Climate Data & Modelling cluster of the UAE Climate Change Research Network of the Ministry of Climate Change and the Environment (MOCCAE) and she is the principal investigator of several projects related to Climate and Earth observations at Khalifa University.
You can learn more about her team's work by visiting ENGEOS lab webpage: https://earth.masdar.ac.ae/index.html