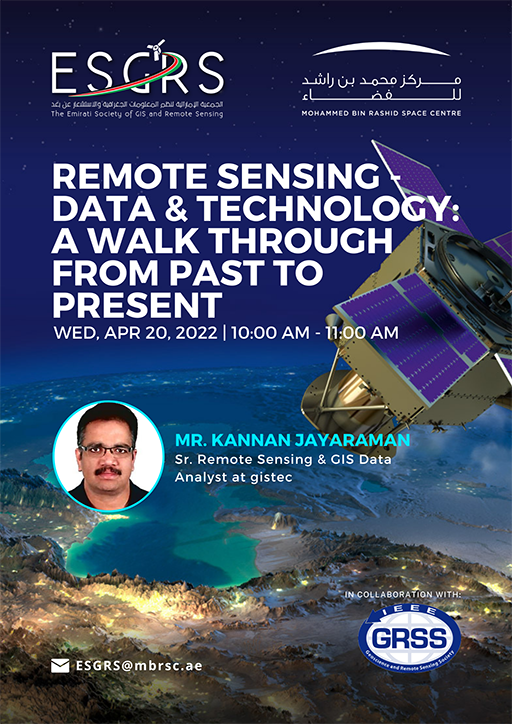 Remote Sensing – Data & Technology A Walk through from Past to Present
Remote sensing is defined as the science of acquiring of information from a distance. Remote sensors collect data by detecting the energy that is reflected from Earth. These sensors can be on satellites or mounted on aircraft. Remote Sensing has a growing relevance in the modern information society. It has become a key service that is used widely in many civil applications such as agriculture, forestry, mining (and prospecting for many types of resources), map making, research in geosciences, urban planning, disaster management and even land speculation. Remote sensing, Earth observation, related Geographical Information Systems (GIS), plus the interpretation and use of this type of data are today often referred to today as Geomatics. In this session let us walk through, from the past to present on the growth & development in the Remote sensing domain from data and technology perspective.
Speaker
Mr. Kannan Jayaraman

Sr. Remote Sensing & GIS Data Analyst at GISTEC

A veteran GIS professional with about 18 years of experience in GIS & Remote Sensing data and in its's various interrelated domains. Expert in Analyze, Design, Development and Deployment of Desktop and Web applications (2D & 3D). Having excellent knowledge in Workflows/process design, automation techniques of the COTS products.