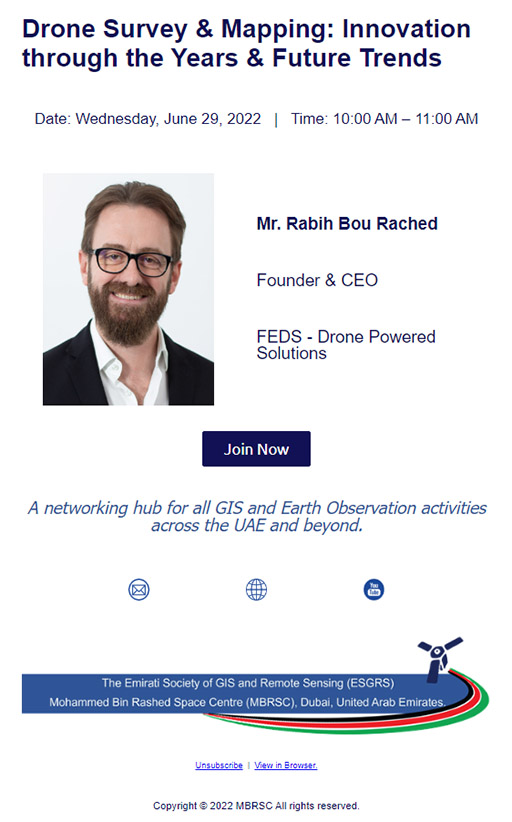 Drone Surveys & Mapping: Innovation through the years and future trends
An overview of the evolution of drone technology in the industry through the years followed by where Rabih thinks the industry and drone technology as a whole is headed. This presentation aims to provide insights on where drones started, current industry trends, and what to keep an eye out for in the future.
Speaker
Rabih Bou Rached

Founder & CEO of FEDS- Drone Powered Solutions

Rabih Bou Rached takes a vision and makes it a reality through methodical planning and execution, he is both a pioneering entrepreneur and leader who intuitively identifies opportunities and inspires action. He leads mainly by example, constantly striving for excellence and encourages others to do the same. He is recognized for his ability to balance grand design with financial information while making decisions. Rabih is a leader and an educator who inspires others to reach their full potential.

For over 7 years, Rabih Bou Rached has been a noteworthy leader in the Commercial Drone space. The Founder and CEO of FEDS- Drone Powered Solutions, Rabih has guided his company from its humble beginnings in the middle east to serving over 35 countries at the global stage. Being highly knowledgeable on drone rules and regulations, Rabih is part of the community for the betterment of these regulations. Rabih is a strong believer in the power of education and uses his knowledge to train the next generation of industry professionals on platforms like gisworx, The Big 5, JUIDA(Japan UAS Industrial Development Association), YPS(Young Professionals in Space) and many more. Rabih believes that in the near future, drones will play a major role in our daily lives and will be as indispensable as the phone is today.