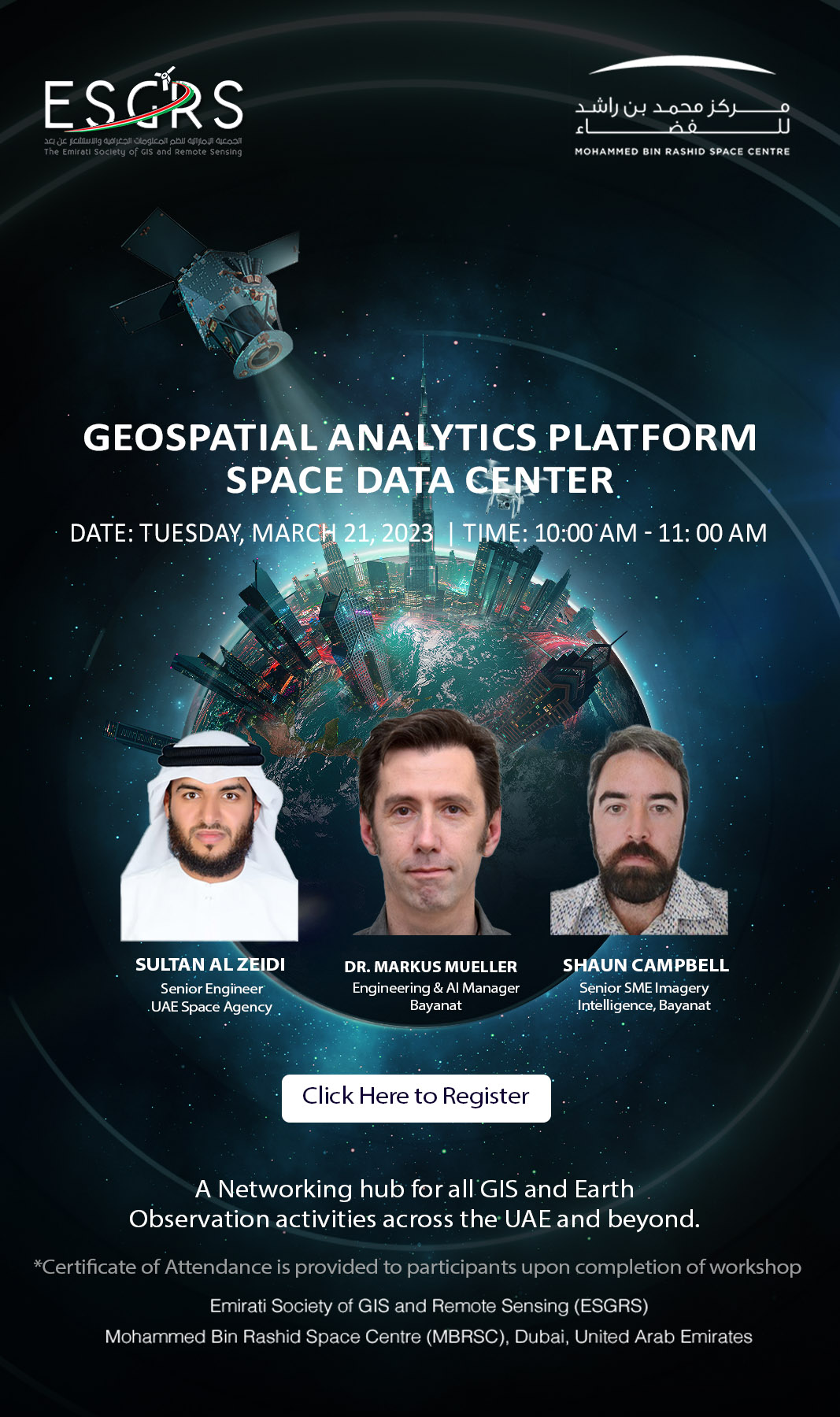 Geospatial Analytics Platform – Space Data Center
The webinar will give an Introduction to The Space Data Center which aims to provide an innovative ecosystem to utilize space data and technologies to address global sustainability challenges and boost the number of companies and patents in the space industry, the Space Data Center is part of the transformational projects announced by the UAE's government, aiming to realize the vision of His Highness Sheikh Mohammed bin Rashid Al Maktoum, to focus on creating the world's best and most active economy delivered by the UAE Space Agency. In addition, an Introduction to the Geospatial Analytics Platform along with its Roadmap & Demo will also be provided through the webinar by Bayanat.Ai.
Speakers
Dr. Markus Mueller

Engineering & AI Manager, Bayanat

I am an engineering manager with more than 20 years of professional experience in the geospatial industry. In the past, I worked in various roles such as data scientist, software engineer, product manager, program manager, data analyst, and researcher.

Shaun Campbell

Senior SME Imagery Intelligence, Bayanat

He is an Imagery Intelligence Subject Matter Expert with experience in optical, SAR, GMTI and full motion video. A well-documented history of effective mission planning, implementing new IT projects and creating new procedures to make the most out of datasets and technology, and mentoring others in its use.

Sultan Al Zeidi

Space Projects Development Senior Engineer – Space Missions Department, UAE Space Agency

Sultan Al Zeidi has a thorough experience in aerospace and space programs with around 11 working years in the areas of space projects development, Integrated Modular Avionics (IMA)/Flight Control System (FCS) development for unmanned aircraft, verification and validation (V&V) with reference to V-Model development approach, SW-In-Loop (SIL) and Hardware-In-Loop (HIL) testing.