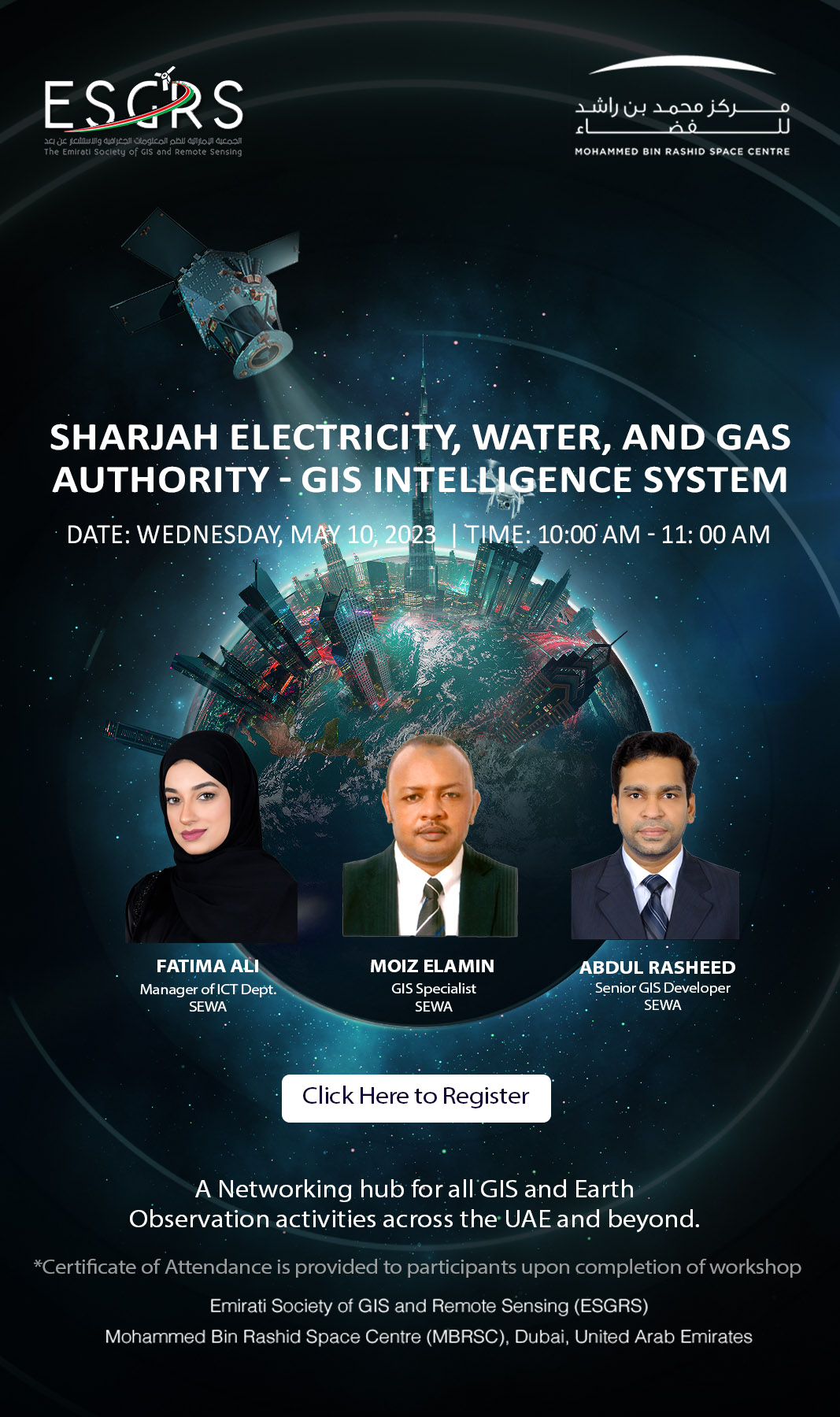 Sharjah Electricity, Water, and Gas Authority – GIS Intelligence System
In this webinar, Sharjah Electricity, Water and Gas Authority will show you the importance of location intelligence for utilities, and how and why things happen that can support your business decision-making.
Speakers
Eng. Abdul Rasheed Kolleth

Senior GIS Developer - SEWA

Senior GIS Developer with 14 years of experience in the Software field and 8 years in GIS development. Skills in developing various types of applications, including web, desktop, and mobile applications.

Eng. Fatima Ali Asgar Ali

Manager of ICT Department·SEWA

Eng. Fatima Ali Asghar, Acting Manager of the ICT Department at SEWA. Graduated from the University of Sharjah with Bachelor's degree in Science in Computer Engineering. I've been landed in SEWA in Y2005; working for 18 years of experience in the field of Information Technology. Being the first Emirati lady working in "SEWA IT Infrastructure" handling and managing IT infrastructure, data center, networks, Telecommunications, and physical security systems and building the foundation of IT Infrastructure and Modernize the Datacenter facility. I've got lots of certificates in different areas that improve and enhance my journey in my career life such as the Excellence Diploma Program from the American University of Sharjah, Several ISO Standards (27001, 9001,18001, 50001, 20000) internal Auditor, standards, and compliance Certifications. I've attended lots of workshops and training programs in different fields such as Strategic & Operational Planning, Leadership & Management programs, Toastmasters Club and communications courses, time management, and project management. I've also attended technology seminars around the world to gain and share knowledge and experience. I'm a member of several internal committees and have got lots of awards and recognitions during my career path.

Eng. Moiz ElAmin

GIS Specialist - SEWA

GIS Specialist with 24 years of experience in GIS Applications, Spatial Data Management GIS Projects, and GIS administration, holding more than 95 GIS certificates including conferences and workshops participation.