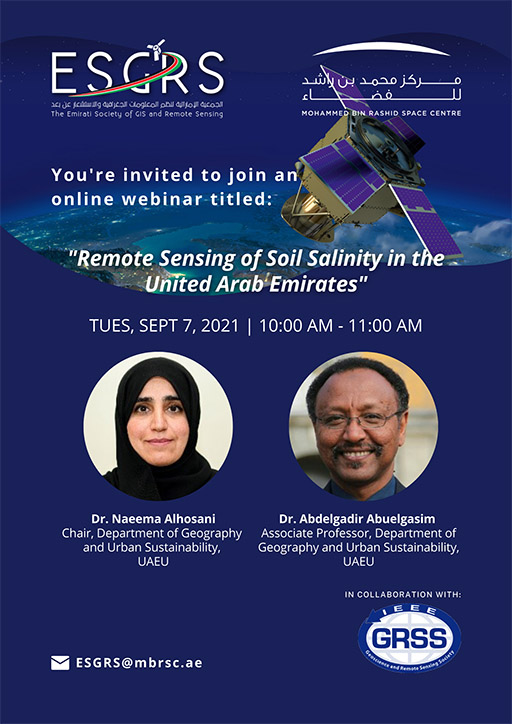 Remote Sensing of Soil Salinity in the United Arab Emirates
Soil salinity, whether natural or human induced, is a major geo-hazard in arid and semi-arid landscapes. In agricultural lands, it negatively affects plant growth, crop yields, whereas in semi-arid and arid non-agricultural areas it affects urban structures due to subsidence, corrosion and ground water quality, leading to further soil erosion and land degradation. Accurately mapping soil salinity through remote sensing techniques has been an active area of research in the past few decades particularly for agricultural lands. Most of this research has focused on the utilization and development of salinity indices for properly mapping and identifying saline agricultural soils. This research develops a soil salinity index and model using Landsat 8 OLI image data from the near infra-red and shortwave infra-red spectral information with emphasis on soil salinity mapping and assessment in non-agricultural desert arid and semi-arid surfaces. The developed index when integrated into a semi-empirical model outperformed in its soil salinity mapping overall accuracy (60%) in comparison to other salinity indices (~50%). The newly developed index further outperformed other indices in its accuracy in mapping and identifying high saline soils (67%) and excessively high saline soils (90%).
Speakers
Dr. Abdelgadir Abuelgasim

Associate Professor, Department of Geography and Urban Sustainability, UAEU

Dr. Abuelgasim received both his masters and PhD degrees from Boston University in 1996. He later joined the NASA Goddard Space Flight Center in Maryland, USA in 1998 as a visiting scientist where he worked in a research program exploiting multi-angle remote sensing observations. In 2000 he relocated to Canada where he has been with the Canada Centre for Remote Sensing and the Canadian Space Agency as a research scientist. Dr Abuelgasim also served as the international geospatial data consultant during 2012 for the Nile Basin Initiative. Dr Abuelgasim research and teaching interests are focused on the analysis of geospatial data for information products generation, physical and human geography and on the effects of human induced environmental and ecological changes. He is currently an associate professor of geography at UAEU.

Dr. Naeema Al Hosani

Chair, Department of Geography and Urban Sustainability, UAEU

Dr. Naeema Alhosani, obtained her Ph. D. (2009), and her M.A. (2005) in Geography "Cartography" from the University of Kansas, USA. Currently, she is department chair since Aug. 2017, as well as she was an assistant dean for student affairs in CHSS from 2013-2017. She has many awards. Her research interests are: Cartography, Maps & Mapping, Map Conception & Development, Map scale, Cartographic Design, Information Design, Practicum in Cartography, Problems in Production map, Cartography and Environment, GIS, Remote Sensing, and Education. Dr. Naeema has participated in many conferences (both regional and international) and research projects as well as maps publications, besides being a member of many professional committees. Also she is affiliated to many professional associations. She has various contributions at the departmental, College, University and Community levels.